Maldives ... For All Seasons !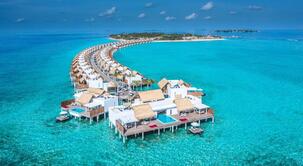 Unrivalled luxury, stunning white-sand beaches and an amazing underwater world make Maldives an obvious choice for a true holiday of a lifetime.

UNBELIEVABLE BEACHES … The Maldives is home to perhaps the best beaches in the world; they're on almost every one of the country's nearly 1200 islands and are so consistently perfect that it's hard not to become blasé about them. While some beaches may boast softer granules than others, the basic fact remains: you'll find this whiter-than-white powder sand and luminous cyan-blue water almost nowhere else on earth. This fact alone is enough to bring nearly a million people a year to this tiny and otherwise little-known Indian Ocean paradise.
RESORTS FOR EVERYONE … Every resort in the Maldives is its own private island, and with over 100 to choose from the only problem is selecting where to stay. At the top end, the world's most exclusive hotel brands compete with each other to attain ever-greater heights of luxury, from personal butlers and private lap pools to in-room massages and pillow menus. It's not surprising that honeymooners and those seeking a glamorous tropical getaway have long had the country at the top of their wish lists. But there's choice beyond the five- and six-star resorts. Other islands cater for families, for divers, for those on a (relative) budget, and anyone wanting a tranquil back-to-nature experience.
UNDERWATER WORLD … With some of the best diving and snorkelling in the world, the clear waters of the Maldives are a magnet for anyone with an interest in marine life. The richness and variety is astonishing – baby sharks can be spotted in any lagoon in the country, while dazzling spectacles such as huge coral walls, magnificent caves and schools of brightly coloured tropical fish await you when you get down to the reef. Manta rays, turtles, friendly sharks and even the world's largest fish, the whale shark, can be seen all over the country and – amazingly – none of the life on the reef is dangerous. The best bit? The water is so warm many people don't even wear a wetsuit.

Maldives is well connected by flights from around the world & through-out India with direct connections from Mumbai, Delhi, Bangalore, Chennai & Trivandrum

Maldives has a concept of 1 Island, 1 Hotel. So apart from the 12 resort options given below there are innumerable resort options available from among 1200 Island.
Stay options start with rates as low as USD 148 per person per day
Trip to Maldives will be ideal as an extention after a tour of Kerala or Sri Lanka

Special rates for Monsoon of 2021 ...

Paradise Island Resort … Paradise Island | Villa Hotels & Resorts | Maldives
Superior Beach Bungalow / USD 845
Water Villa / USD 1425
Includes : 4 nights stay, All meals, Speed boat airport transfers, Taxes

Varu by Atmosphere … Maldives Resort Packages | VARU by Atmosphere | Exclusive Private Offer (varu-atmosphere.com)
Beach Villa / USD 1190
Water Villa / USD 1290
Includes : 4 nights stay, All inclusive, Speed boat airport transfers, Taxes

Atmosphere Kanifushi … Maldives All-Inclusive Packages | Atmosphere Kanifushi | Platinum Plus (atmosphere-kanifushi.com)
Sunset Beach Villa / USD 1290
Water Villa / USD 1490
Includes : 4 nights stay, All inclusive, Sea Plane airport transfers, Taxes

Adaaran Prestige Vadoo … Maldives Water Villas | Adaaran Prestige Vadoo | Holiday Package
Sunrise Villa / USD 1349
Sunset Villa / USD 1549
Includes : 4 nights stay, All inclusive, Speed Boat airport transfers, Taxes

Notes
Round the Year Destination ... Extension recommended to Sri Lanka
Hotels
Notes on itinerary
All our itineraries are "Just for Ideas" ... We will get to know you and customise an itinerary just for you that matches your requirements ... dates of travel, category of hotels, preferred airline, flexibility in choosing sightseeing, mode of travel between cities, etc.
Many of our clients have us design more relaxing, slower paced holidays with more in-depth experiences whereas some simply want to visit various destinations and cover only the highlights.
Together, we will determine the ideal route, pace of travel, accommodations, levels of pampering, style of touring, sightseeing to be included, dining preferences, adventure levels, options to meet locals, dates of travel & much more ! and based on this arrive at a price.
Do feel free to get in touch with us by a quick call on +91 79 29602961 or a short mail on mail@destinations4india.com ... Looking forward