5 nights Cruise Ex Singapore to Popular Islands of Malaysia & Thailand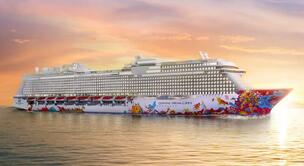 If you believe in "do it big, or not at all," this cruise is for you – four destinations in five days will deliver the experience of a lifetime. Explore caves and lakes, mountains and mangroves, and some of Asia's most beautiful beaches. Visit temples, royal residences and sky-scraping modern architectural marvels. Be moved by a village dance performance or let loose at a glitzy cabaret. Shop at a floating market and world-class mall. See eagles feed and elephants bathe. Snorkel, raft, dive, kayak, and even take a leap on a zipline. Throughout, you'll experience cultures through the finest flavours of your urban and island ports of call. Whether transported by trishaw, cable car, canoe or helicopter, you'll be entering worlds of wonder.
Sunday

Singapore

-

1700

Monday

Penang

1330

2300

Tuesday

Phuket

1200 (1100)

2359 (2300)

Wednesday

Langkawi

1000

2000

Thursday

Kuala Lumpur (Port Klang)

1000

2000

Friday

Singapore

1200
Itinerary
Day 1

Arrival / Departure Singapore

Arrival at Singapore airport, meet & greet by our representative, transfer to cruise port

Capitalising on its melting pot of cultures, Singapore is finally getting some spark, and is fast becoming one of Asia's hit-list destinations

Departure Singapore @ 1700 hrs.

Dinner & overnight on Cruise

Day 2

Arrival Penang

Arrival at Penang @ 1330 hrs.

If there's a more thrilling cocktail of Eastern cultures than in Penang, we've yet to find it. Penang has long served as the link between Asia's great kingdoms and an important outlet to the markets of Europe and the Middle East. At its heart is diverse, cosmopolitan George Town, Penang Island's main city and an urban centre that delivers old-world Asia in spades, from trishaws pedalling past watermarked Chinese shophouses to blue joss smoke perfuming the air. The freshest aspects of modern culture are present, too, in the exceptional art scene and free-spirited carnivals, all fed by an infectious local enthusiasm for Penang's long history and kaleidoscope of cultures

Departure penang @ 2300 hrs.

Breakfast, lunch, dinner & overnight on Cruise

Day 3

Arrival Phuket

Arrival Phuket @ 1200 hrs.

Phuket City, on Phuket Island, is the capital of Thailand's Phuket Province. In the Old Town, Thalang Road is lined with colorful 19th-century shophouses and Sino-Portuguese buildings. Built in 1903 by a wealthy tin merchant, Baan Chinpracha mansion has Italian floor tiles, shuttered windows and antique furniture. Set in a 1930s manor, the Thai Hua Museum has exhibits on Phuket's culture and history

Departure Phuket @ 2359 hrs.

Breakfast, lunch, dinner & overnight on Cruise

Day 4

Arrival Langkawi

Arrival Langkawi @ 1000 hrs.

Langkawi, officially known as Langkawi, the Jewel of Kedah, is a district and an archipelago of 99 islands in the Andaman Sea some 30 km off the mainland coast of northwestern Malaysia. The islands are a part of the state of Kedah, which is adjacent to the Thai border

Departure Langkawi @ 2000 hrs.

Breakfast, lunch, dinner & overnight on Cruise

Day 5

Arrival Kuala Lumpur (Port Klang)

Arrival Kuala Lumpur (Port Klang) @ 1000 hrs.

Kuala Lumpur is the capital of Malaysia. Its modern skyline is dominated by the 451m-tall Petronas Twin Towers, a pair of glass-and-steel-clad skyscrapers with Islamic motifs. The towers also offer a public skybridge and observation deck. The city is also home to British colonial-era landmarks such as the Kuala Lumpur Railway Station and the Sultan Abdul Samad Building

Departure Langkawi @ 2000 hrs.

Breakfast, lunch, dinner & overnight on Cruise

Day 6

Arrival / Departure Singapore

Breakfast & lunch on Cruise

Arrival Singapore @ 1800 hrs.

On arrival transfer to airport for onward flight
Notes
Round the Year Destination
Notes on itinerary
All our itineraries are "Just for Ideas" ... We will get to know you and customise an itinerary just for you that matches your requirements ... dates of travel, category of hotels, preferred airline, flexibility in choosing sightseeing, mode of travel between cities, etc.
Many of our clients have us design more relaxing, slower paced holidays with more in-depth experiences whereas some simply want to visit various destinations and cover only the highlights.
Together, we will determine the ideal route, pace of travel, accommodations, levels of pampering, style of touring, sightseeing to be included, dining preferences, adventure levels, options to meet locals, dates of travel & much more ! and based on this arrive at a price.
Do feel free to get in touch with us by a quick call on +91 79 29602961 or a short mail on mail@destinations4india.com ... Looking forward