100 PERCENT BACK @ ITC HOTELS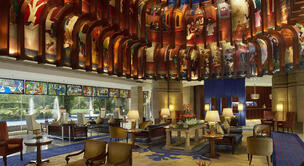 | | |
| --- | --- |
| City | Hotels |
| | |
| Agra | ITC Mughal |
| Amritsar | WelcomHotel Amritsar |
| Aurangabad | WelcomHotel Rama International |
| Bangalore | ITC Windsor |
| Bangalore | ITC Gardenia |
| Bangalore | WelcomHotel Bangalore |
| Chandigarh | WelcomHotel Bella Vista |
| Chennai | ITC Grand Chola |
| Coimbatore | WelcomHotel Coimbatore |
| Chennai | WelcomHotel Chennai |
| Chennai | WelcomHotel GST Road, Chennai |
| Goa | ITC Grand Goa |
| Gurgaon | ITC Grand Bharat |
| Hyderabad | ITC Kakatiya |
| Hyderabad | ITC Kohenur |
| Jaipur | ITC Rajputana |
| Jodhpur | WelcomHotel Jodhpur |
| Nr Jodhpur | WelcomHotel Khimsar |
| Kolkata | ITC Royal Bengal |
| Kolkata | ITC Sonar |
| Mahabalipuram | WelcomHotel Kences |
| Mumbai | ITC Grand Central |
| Mumbai | ITC Maratha |
| Mussorie | WelcomHotel Savoy |
| New Delhi | ITC Maurya |
| New Delhi | WelcomHotel sheraton |
| New Delhi | WelcomHotel Dwarka |
| Pahalgam | WelcomHotel Pine N Peak |
| Port Blair | WelcomHotel Bay Island |
| Vadodara | WelcomHotel Vadodara |
| Vizag | WelcomHotel Grand Bay |
100 PERCENT BACK @ ITC Hotels
ITC Hotels will match your spend and double your joy!

Book a stay with us and receive the full amount as hotel credits that can be instantly redeemed during your stay at ITC Hotels towards exquisite experiences including Food & Beverages, relaxing spa treatments & more.

This is by far the best offer in these testing times for tourism industry

Rates starting from Rs.10500 per room per night …

Offer includes …

1. Accommodation
2. Hotel credits equivalent to the room rate (excluding taxes)
3. All extra services & amenities not part of this offer will be on an additional charge
4. Rates at hotels are dynamic and changes with occupancy level. So base price of Rs.10500 is an indicative base price and it may differ for stay at a specific hotel for a specific date
ITC HOTELS

With the Namaste as the enduring symbol of its brand experience, ITC Hotels is one of India's leading luxury hotel chains. It operates under four distinct brands with more than 100 hotels in over 70 destinations in the country. Integrating India's fine tradition of hospitality with globally benchmarked services, the luxury hotels reflect the culture and ethos of each destination.

With 'Responsible Luxury' as its guiding premise, ITC's Luxury Collection hotels combine grandeur with intimacy to operate according to the highest principles of environmental stewardship. The brand features opulent accommodations, state-of-the-art business facilities, renowned signature cuisine and award-winning wellness experiences.

Each ITC luxury hotel is an archetype of the culture and ethos of the region that it is located in. The concept of each of the hotels weaves in the strongest elements of the culture of the region – harking back through architecture, interiors, art and artefacts to the major dynasties who have ruled India.

Our unique value propositions, including the differentiated character of our hotels, coupled with indigenous Indian experiences is what makes every ITC luxury hotel part of a unique collection of hotels and an archetype of the culture and ethos of the region that it is located in.

From product design to room configuration to interiors, every aspect of ITC's hotels are conceptualised and built around the diverse and evolving needs of our guest. We ensure that we stay relevant and contemporary in our offerings.

Innovation, guest orientation, globally benchmarked products and service excellence steeped in Indianness, based on the commitment to responsible luxury form the cornerstones of ITC Hotel's value proposition. These pillars have governed and inspire our business philosophy.

LUXURY ACCOMMODATION

Luxury Accommodation at ITC Hotels combines the best of luxury, space and service standards, offering understated elegance, exquisite, interiors, breath-taking luxury and unmatched hospitality. By pioneering the concept of branded accommodation, ITC Hotels has set standards for excellence in the hotel industry. The Chain has developed ITC One, The Towers and Executive Club to cater to the various travellers and provide high levels of service. Each category is unique in design and luxuriously appointed to meet the needs of our guests.

DINING

Experience the finest regional, national and global flavours through an award winning repertoire of branded cuisine offerings at ITC Hotels.

The Bukhara and Peshawri restaurants bring alive the robust yet rustic flavors of the Northwest Frontier . Dum Pukht recreates a 200-year old culinary tradition of slow cooking , dating back to the royal kitchens of the Nawabs of yore . Dakshin brings together the highly evolved cuisines of the four southern states- Andhra Pradesh, Karnataka, Tamil Nadu and Kerala. Kebabs & Kurries, offers a a mouth-watering array of kebabs and a wide range of Quarmas, Qaliyas & Salans

From wood fired oven pizzas to elaborate antipasti and an astonishing variety of artisanal pastas, exotic cheese and choicest beverages , Ottimo -Cucina Italiana offers is a hearty slice of sunny Italy. The Pan Asian serves specialties from China, Thailand, Mongolia, Japan, Indonesia, Vietnam and Malaysia.

Royal Vega displays a delightful offering of delectable vegetarian food from the magnificent royal kitchens of India. Avartana exemplifies an exclusive blend of traditional and progressive renditions of Southern Indian cuisine, which is rooted to the gravitas of the unique tastes, aromas and flavours of southern Indian spices. Tian-Asian Cuisine Studio - unravels an amalgamation of creative Asian flavours and textures & offers avant-garde cooking techniques and culinary masterpieces from Japan, Korea, Thailand, China and beyond.

WELLNESS

Indulge in a rejuvenating wellness experience that takes the mind and body on a sensory journey into a haven of tranquillity. A leading destination for holistic health and wellness, ITC Hotels offer a range of comprehensive services ranging from luxurious spa treatments, an array of beauty services at Salon Di Wills and fully equipped fitness facilities. As a steward of true wellness, ITC Hotels has also developed 'Swasthya' cuisine, crafted to attain a complete sense of physical, mental and spiritual well-being.