Best of Singapore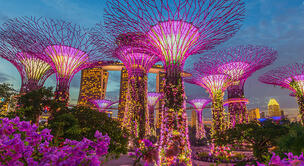 Capitalising on its melting pot of cultures, Singapore is finally getting some spark, and is fast becoming one of Asia's hit-list destinations.

Here, There, Everywhere
Whizzing around Singapore can take a matter of minutes, thanks to one of the world's most efficient and widespread public transport systems. Hankering for breakfast in Little India, but want to visit the temples in Chinatown before lunch? No problem, you'll be there in a jiffy using the sparkling MRT system – and why not stop at Marina Bay for a spot of shopping on your way? Plus, with new metro lines opening practically every two years, this tiny island just keeps on becoming easier to explore.

The Island of Feasting
Food in Singapore is taken very seriously. From cheap hawker fare to Michelin-starred fine dining, food-enamoured Singaporeans will line up for it, Instagram the hell out of it and passionately debate whether it is 'die, die, must try' – Singlish slang for 'to die for'. Don't fret about finding a place to chow down, as each neighbourhood is home to local hawker centres and coffeeshops dishing up some of the island's best meals for just a couple of bucks. Simply follow your nose or join the longest queue – whatever morsels lie at the end, they are almost guaranteed to be scrumptious.

A Green City
The concrete jungles that once dominated Singapore's skyline are slowly giving way to green skyscrapers, which look more like living ecosystems than business hubs. Fervently working towards its 'City in a Garden' dream, the nation is ploughing money into becoming more sustainable and, well, green. Head out of town a little and you'll find plenty of walking trails, treetop jungle bridges, wildlife galore and the city's green jewel, the Unesco World Heritage–listed Singapore Botanic Gardens: these are the lungs of Singapore.

Shopping Frenzy
When the sweltering outdoor heat gets too much, Singaporeans love ducking inside for a spot of retail therapy and a good dose of air-conditioning. Orchard Rd is the queen of shopping malls: with all the high-street brands, plenty of high-fashion houses, and a few discount outlets thrown into the mix, everyone's needs (and more often wants) are catered for here. If you prefer your shopping a little less mass-market, head out to local neighbourhoods for independent designers, quirky art galleries, bustling markets, Chinese medicines, Persian carpets and a sari or two.
Itinerary
Day 1

Arrival Singapore - Visit Marina Bay Sands & Garden By the Bay

Upon arrival at Singapore, meet & greet by our representative, transfer to hotel for check in

Singapore is one of four city-states in the world and the smallest nation in South East Asia.

By the 14th century, Singapore had become part of the mighty Sri Vijayan Empire and was known as Temasek ("Sea Town"). Located at the natural meeting point of sea routes at the tip of the Malay Peninsula, Singapore has historically been a busy port. During the 11th century, this small but strategically-placed island earned the name "SingaPura" ("Lion City").

Today Singapore is the busiest port in the world with over 600 shipping lines. With a population of about 5 million people, Singapore is culturally diverse, provides a safe study-abroad environment, and boasts a high standard of living. A must visit for all, the beauty of Singapore lies in its magnificent skyscrapers, sanctuaries, nightlife, shopping, parks, etc. From classical symphonies to Chinese operas, Jazz to Ballet, rock to Hollywood's latest hits, Singapore offers unlimited entertainment.

On arrival check in at hotel & rest a while

Later visit Gardens by the Bay & Marina Bay Sands Sky Park

Marina Bay Sands – Sky Park

Drink in the panoramic vistas of stunning Marina Bay, the world-class cityscape, the architectural wonders of Super tree Grove, and the vibrant colors of Gardens by the Bay.

From Marina South Pier all the way out to the Singapore Strait, get a bird's eye view of the bustling shipping lanes that have built Singapore's rich multicultural history.

Whether you're looking to immortalize the memory of blue waters glittering under the clear bright sun or marvel at the spectacular nightly Spectra light and water show, the Observation Deck is the place to be to hone your photography skills from the best vantage point in the city.

After Marina Bay Sands, proceed to Gardens by the Bay

Gardens By the Bay

Gardens by the Bay is a park spanning 101 hectares (250 acres) of reclaimed land in central Singapore, adjacent to the Marina Reservoir. The park consists of three waterfront gardens: Bay South Garden, Bay East Garden and Bay Central Garden.

Garden by the bay is an integral part of a strategy by the Singapore government to transform Singapore from a "Garden City" to a "City in a Garden". Garden by the bay is a massive £350 million project in Singapore, with UK Landscape Architects Grant Associates leading the master planning team.

A series of tree structures act as vertical gardens that collect rainwater and solar energy to sustain the garden and light the way at night. They range from 30-55 meters in height and will be wrapped in ferns, vines, and tropical flowers.

Later drop back to hotel

Overnight at Singapore

Day 2

Singapore - City Tour & Sentosa Island

After breakfast, pick up from the hotel for Half day City Tour.

Singapore City tour will covers Merlion Park, Tian Hock Kian Temple, Souvenir Shop, Chinatown

Merlion Park - Situated at the mouth of the Singapore River, the Merlion is Singapore's national icon. The mythical creature has a head of a lion and body of a fish. It symbolizes the history of Singapore as a "Lion City" and famous sea port. This icon is a 'must-see' for tourists visiting Singapore, similar to other significant landmarks around the world. There are a total of 5 Merlions in Singapore, 2 of them located here. The other 3 of them are located at Mount Faber, Sentosa and Tourism Court.

Tian Hock Keng Temple - Tian Hock Keng is one of the oldest and most important Hokkien temples in Singapore. It was visited by Chinese immigrants giving thanks to Mazu (Goddess of the Seas) for their safe voyage. In 1839, under the leadership of Mr Tan Tock Seng and Mr Si Hoo Keh, the Hokkien clan built the temple in Telok Ayer Street. It also housed the clan's office and served as a meeting venue. The construction of Thian Hock Keng was completed in 1840. The details of the temple's history are recorded on stone steles inside the Entrance Hall.

The temple was built in traditional southern Chinese architectural style. The entire structure was assembled without nails. It is an architectural masterpiece of stone, tiles and wood, carvings of dragons and phoenixes, intricate sculptures and imposing columns.

Chinatown - Chinatown was home to the early Chinese settlers. Today, it is one of the must-see cultural enclaves for visitors. Visitors will be delighted with the variety of authentic Chinese food, products and souvenirs sold at Chinatown, and be enthralled by the juxtaposition of old pre-war shop houses and modern high-rise buildings.

Transfer back to hotel by 1300 hrs.

Later at 1400 hrs. proceed to Sentosa Island

Just 15 minutes away from the city centre is Sentosa, an idyllic resort island with pristine beaches, world-class attractions, sea sports, golf and retreats. At Sentosa, there are endless activities to indulge your every interest.

There's something for everyone; thrill seekers can take a ride on Skyline Luge Sentosa, nature lovers can explore the walking trails and wonders of Butterfly Park & Insect Kingdom or learn about flora and fauna on a guided tour of Sentosa Nature Discovery.

Cable Car Ride - Be captivated and enthralled by the setting sun as the night unfolds a picturesque Singapore landscape with Singapore Cable Car offering a stunning 360-degree view of the Southern precinct with its transparent enclosure.

Madame Tussauds - Bringing our unique blend of glitz and glamour, Madame Tussauds Singapore will take you to a party like no other! With 8 fully themed interactive zones and the new "Spirit of Singapore" boat ride, get ready to photograph and pose with your favorite A-Listers, challenge sports stars, hop on stage with music legends and come face to face with international icons from Singapore, Asia and beyond. Hop aboard the 'Spirit of Singapore', the first ever Madame Tussauds boat ride, and travel through our fantasy, tropical Singaporean garden.

SEA Aquarium [Tickets included] - You'll be gawking at more than 800 species of aquatic creature at Singapore's impressive, sprawling aquarium. The state-of-the-art complex recreates 49 aquatic habitats found between Southeast Asia, Australia and Africa. The Open Ocean habitat is especially spectacular, its 36m-long, 8.3m-high viewing panel one of the world's largest. The complex is also home to an interactive, family-friendly exhibition exploring the history of the maritime Silk Route.

Images of Singapore - Fun, interactive and theatrical, Images of Singapore LIVE takes you on a journey to uncover the nation's extraordinary story! Through a unique mix of live actors and special effects, get ready to step back in time to Singapore's past from a humble Malay fishing village to 21st century powerhouse

Marvel 4D or Film Star Exp. - Want to meet your favourite Super Heroes? Your time is now! Marvel's most loved Super Heroes have been brought to life. Take a seat in the Marvel 4D cinema with high impact special effects. We will take you closer to the action, exclusively in Singapore - the only Madame Tussauds in Asia offering you this unique experience that cannot be missed!

Wings of the Time - Wings Of Time is a multi-sensory extravaganza that tells an epic tale of courage, mystery and magic. The first of its kind, Wings of Time is the only permanent night show in the world set in the open sea. Set against a signature backdrop and a larger-than-life water screen, audiences can look forward to a contemporary storyline weaved together with an epic experiential fusion of the latest multimedia effects, including 3D projection mapping, state-of-the-art lasers, robotic water fountains and giant water jets, pyrotechnics.

Later drop to hotel

Overnight at Singapore

Day 3

Singapore - Jurong Bird Park

After breakfast, transfer to Jurong Bird Park

Other than enjoying the refreshing natural ambience of the park, you will be entertained by the various activities organized by the park. The ever popular bird shows are a good way to start the trip. Be entertained by the 'All Star Bird Show' and the 'Birds of Prey Show' where a variety of birds ranging from the aeronautical to the flightless entertain you with their amazing single acts.

Be fascinated by the mimicking cockatoos, pelicans and flamingoes or gaze in awe at the hawks and falcons flying in aerial loops to soar above the treetops. For those less inclined towards covering the park on foot, you can hop onto the Jurong Bird Park's Panorail for a panoramic view of the park in cool air-conditioned comfort. The panorail travels in a loop to 3 stations. The Main Station is located next to the Wings retail store, right after the main entrance.

Later Transfer back to hotel

Rest of the day at leisure for shopping on Orchard Road or cover some of the city attractions on your own

Orchard Road

Take a stroll on the Orchard road famous for its shopping centers which are filled with a variety of products from around the world. Most malls carry the concept of "everything under one roof". Virtually everything that is desired can be found in these shopping centers. Other than being a shopper's heaven, it is also a great haunt for fabulous fine-dining and swanky restaurants. Spanning almost 2.2 km, Orchard Road is a one-way street flanked by distinctive shopping malls on both sides of the road. Outside of the malls, the main thoroughfare is immaculately landscaped with flowers and greenery as is ubiquitous in this Garden City. Promising to please any taste or budget, the shopping belt comprises nearly 800,000 sqm of stores and restaurants, from designer brands to fast fashion and from upscale restaurants to food courts. The Orchard Road experience is a lifestyle experience. Today, Orchard Road is one of Singapore's biggest tourist draws.

Singapore Flyer

Singapore Flyer, the world's largest giant observation wheel, gives a 360 panoramic view of Singapore, from the fast-changing Marina Bay that is transforming by the minute, to the islands of Malaysia and Indonesia. It is the best vantage point of Singapore to see and feel the vibrancy of the beautiful and colorful city. Besides enjoying the 30-minute ride on the 165-metre tall Singapore Flyer, which is the exciting mix of specialty and lifestyle concept shops at the three-story Retail Terminal.

Clark Quay

On a free evening you can visit the famous Clark Quay. Featuring five blocks of restored warehouses, Clarke Quay offers a quirky alternative to mainstream attractions, with second-hand and antique shops and restaurants with an amazing array of F&B options. In the evenings, dance clubs and pubs come alive with music from the 1960s to the present. Shop, eat and be entertained by the riverside!

Overnight at Singapore

Day 4

Singapore - Universal Studio

After breakfast, you will be picked up from the hotel for a visit to The Universal Studio

Universal Studios is the top draw at Resorts World. Shops, shows, restaurants, rides and roller coasters are all neatly packaged into fantasy-world themes based on blockbuster Hollywood films

Go beyond the screen and Ride The Movie at Universal Studios Singapore. Only here can you experience cutting-edge rides, shows, and attractions based on your favorite blockbuster films and television series, including TRANSFORMERS The Ride: The Ultimate 3D Battle, Shrek 4-D Adventure, Madagascar: A Crate Adventure, Jurassic Park Rapids Adventure, and more!

One of the latest and greatest additions to Singapore's already exciting roster of great attractions is Universal Studios Park.

Immerse Yourself in Seven Zones

Enter the thrilling world of movie magic as you Ride the Movies on roller coasters and other movie-themed attractions. Be dazzled and delighted by an immersive entertainment experience that brings the silver screen to life.

Hollywood - Step onto Hollywood Boulevard framed by dynamic architecture, palm trees and the famous Walk of Fame, you will feel as if you have landed in the center of the entertainment universe.

New York - Feel the spirit and energy of America's biggest and grandest city as you stroll along the sidewalks and enjoy all the classic landmarks. Soak in the impressive city skylines, neon lights, and facades that set the scenes for big city fun and real-time movie production.

Sci-Fi City - The city of the future has arrived. Through the impressive portals of Sci-Fi City you will experience the ultimate intergalactic battle of Good vs. Evil and visit a vibrant metropolis with all the ultimate modern conveniences.

Ancient Egypt - Ancient pyramids and obelisks stand fast against the sands of time as you are transported to 1930's Egypt, the Golden Age of Egyptian Exploration. Travel to an era when entire Pharaohs tombs were discovered- and their terrible curses unleashed.

The Lost World - Divided into two themed areas: Jurassic Park™ and WaterWorld™, this zone is for fans of the two blockbuster movies, as they can experience a dense tropical forest where dinosaurs lurk, then watch death defying stunts filled with thrills and spills!

Far Far Away - Movie stars and talking donkeys… come experience the lifestyles of the rich and fairy-tales. Guests can enjoy Shrek 4-D Adventure or sing along with our favorite steed at Donkey LIVE.

Madagascar - Based on the hit DreamWorks Animation film, Madagascar, this zone brings you to a dense tropical jungle, filled with strange and wonderful animals like Lemurs and Foosas.

Later in the evening, drop back to the hotel.

Overnight at Singapore

Day 5

Departure Singapore

After breakfast, day at leisure to explore the city on your own

Later transfer to airport for your onward flight as per schedule
Notes
Round the Year Destination - Suggested extensions - Bintan & Bali
Hotels
Tour Inclusions [Singapore]
4 nights accommodation
Breakfast at hotel
Aiport transfers : Singapore airport - Hotel - Airport
Gardens by the Bay & Marina Bay Sands Sky Park
Half day city tour
Half day Sentosa Island tour
Half day Jurong Bird Park
Full day Universal Studio tour


Notes on itinerary
All our itineraries are "Just for Ideas" ... We will get to know you and customise an itinerary just for you that matches your requirements ... dates of travel, category of hotels, preferred airline, flexibility in choosing sightseeing, mode of travel between cities, etc.
Many of our clients have us design more relaxing, slower paced holidays with more in-depth experiences whereas some simply want to visit various destinations and cover only the highlights.
Together, we will determine the ideal route, pace of travel, accommodations, levels of pampering, style of touring, sightseeing to be included, dining preferences, adventure levels, options to meet locals, dates of travel & much more ! and based on this arrive at a price.
Do feel free to get in touch with us by a quick call on +91 79 29602961 or a short mail on mail@destinations4india.com ... Looking forward