Best of Uttarakhand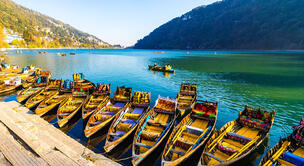 Uttarakhand is a place of myth and mountains. Hindus think of it as Dev Bhoomi – the Land of Gods – and the dramatic terrain is covered with holy peaks, lakes and rivers. Twisting roads and high-altitude hiking trails lead to spectacular pilgrimage sites where tales from Hindu epics are set. Though the presence of Shiva and Parvati (in a few of her forms) tower over the state, the imprint of the British is equally apparent: the legend of Jim Corbett lives on in the famed tiger reserve that bears his name; popular holiday towns were once Raj-era hill stations; and the Beatles turned Rishikesh into a magnet for spiritual seekers and yoga practitioners worldwide.

Uttarakhand may seem like a silver medallist: it's the state with the second-highest tiger population (after Karnataka) and has India's second-highest peak (Nanda Devi); but its diversity of activities and sheer natural beauty are pure travellers' gold.

We are pleased to offer you the best of Uttrakhand covering Nainital, Kausani & Corbett Tiger Reserve. These destinations give you an a mesmirising experience of Himalayas as well as wildlife at Corbett !
Itinerary
Day 1

Arrival Delhi / Transfer to Nainital

Arrive New Delhi airport, meet & greet by our representative, transfer to Nainital [310 kms. - 7 hrs. drive]

Crowded around a deep, green volcanic lake, Nainital is Kumaon's largest town and favourite hill resort. It occupies a steep forested valley around the namesake lake Naini and was founded by homesick Brits reminded of the Cumbrian Lake district.

Plenty of hotels are set on the hillside around the lake. There's a busy bazaar, and a spider's web of walking tracks covers the forested slopes to viewpoints overlooking distant Himalayan peaks.

For travellers it's an easy place to kick back and relax, eat well, and ride horses or paddle on the lake. In peak seasons – roughly May to mid-July and October – Nainital is packed to the gills with holidaying families and honeymooners, and hotel prices skyrocket.

Check in at hotel on arrival

Rest of the day at leisure to relax at the resort or visit the market around Naini lake

Naini Lake, a natural make of mother earth, is set amidst seven mountains that surround this stagnant water pool and high peaks that almost touch the sky. Many tourists flock to view its enchanting beauty that stretches over 3.5 km and also where one can sit on the banks and enjoy a view of Sunrise up to Sunset that reflects with vibrant colours on this lake.

Dinner & overnight at Nainital

Day 2

Nainital - Sightseeing

After breakfast, proceed for city tour

Naina Devi Temple - To the north of the lake is the small NainaDeviTemple, one of India's venerable 64 Shaktipeeths. The pathway to the temple, edging the lakeside is a verdant trail. The lake is said to have sprung from the eye of the Goddess Parvati which legend has it fell here when the grief-stricken Lord Shiva broke into his cosmic tandava dance of destruction with his dead consort in his arms.

Boat House Club - The Nainital Boat House Club exclusively holds the management of yatching in Nainital. While sailing a yatch requires a thorough knowledge of sailing technique and skill, casual visitors and tourists can still enjoy a drink at the lake-facing bar or shoot a game or billiards by paying a nominal temporary membership fee. At present, the Nainital Boat Club has got 10 yatchs. The Nainital Club, which was the parent body took the decision to sell all the yatchs and close the club. This led a few sailing enthusiasts to rally round and use their own savings to buy the yatchs and transfer the club lease to the Boat House Club.

Aurobindo Ashram - There is a branch of the Sri Aurbindo Ashram which is located on the lush hills of Kumaon valley. The ashram serves as a learning center for art of perseverance and yoga. You can practice yoga and meditations while your stay here. The experience at this ashram is definitely elevating. You will need to have prior permission to be able to stay at this ashram. The ashram is located at the end of a steep climb of the hill. The panoramic views and isolation and serenity add to the charm of the Ashram.

Eco Cave Gardens - The Eco Cave Gardens are a great hit with children. An excellent way to introduce the little ones to the concept of eco-friendly living, this cluster of 6 underground natural caves brings out the explorer in the kids and their high-spirited laughter rewards you for its novel approach to adventure in the hills. The caves are lit inside with petromax lamps and make for a very unusual and interesting experience. They are not for the claustrophobic though. There is a tiger cave, panther cave, bats cave, squirrel cave, flying fox cave and apes cave. The routes inside are very narrow and at some places, you need to crawl on all fours.

China Peak - Also known as Naina Peak, this peak is at an altitude of 2611 mts and at a distance of 6 kms from Nainital. China Peak being the highest peak of the town, offers stunning views of the majestic snow capped Himalayan range from Bandar Punch in the weat to the peaks of Nepal in the east

Evening at leisure

Dinner & overnight at Nainital

Day 3

Nainital - Free day

After breakfast, day is at leisure to relax or continue with remaining sightseeing

Dinner & overnight at Nainital

Day 4

Nainital to Kausani

After breakfast, transfer to Kausani

Perched high on a forest-covered ridge, this tiny, sleepy village has lovely panoramic views of distant snow-capped peaks, mountain-fresh air and a relaxed atmosphere. Mahatma Gandhi found Kausani an inspirational place to write his Bhagavad Gita treatise Anasakti Yoga in 1929, and there is still an ashram devoted to him here. Baijnath village, 19km north, has an intriguing complex of 12th-century sikhara-style temples in a lovely location shaded by trees, with other shrines in the nearby old village.

On arrival check in at hotel

Rest of the day at leisure

Dinner & overnight at Kausani

Day 5

Kausani - Sightseeing

After breakfast, proceed for city tour

Take a guided Nature Walk through Tea Estate and Guided Trek to Rudradhari Temple through Forest

Later visit other places of Sightseeing at Kausani

Rudradhari Falls and Caves - Located in a picturesque setting amidst paddy fields and terraced hill farms and thick pine forest, the Rudradhari Falls and Caves are located in the Adi Kailash region. These regions can be reached through an easy trek and is perched at the height of 1,555 meters above sea level.

Lakshmi Ashram - The Ashram is located at a short distance of 1 kilometer from Kausani. Lakshmi Ashram was started by Catherine Hillman who later changed her name to Sarlaben in 1964. The ashram's chief motto is the development of the rural women of Kumaon region. The women are taught various things like growing vegetables, cooking, house-keeping etc. The place is located amidst a serene location and a visit here is an essential part of a spiritual trip that you seek.

Anasakti Ashram (Gandhi Ashram) - Also known as the Gandhi Ashram the Anasakti Ashram is the place where Mahatma Gandhi stayed during the time he wrote the Anasakti Yog. The Anasakti Yog is commonly described as the gospel of selfless action and is considered one of Mahatma Gandhi's finest literary works. The Ashram houses a museum that contains Mahatma Gandhi's photographs and his writings.

Sumitranandan Pant Gallery - One of the greatest Indian poets, Sumitranandan Pant was born in Kausani. Sumitranandan Pant was one of the major poets of the Chayavaadi School of Poetry. Sumitranandan Pant Gallery is a mini museum which contains various awards, drafts and manuscripts written by the legendary poet. The library located here is not to be missed and has some really interesting collection of books.

Baijnath Temple - Baijnath Temple is a considered to be 1,000 years old and is dedicated to the Hindu deity Shiva. The temple was consecrated in 1204 AD and is a fine specimen of the North Indian Nagara style of architecture. The sources suggest that a Shiva temple has existed since ages before the present structrure was constructed in 1204. The temple also provides some of the most amazing views of the surrounding mountain ranges.

Kausani Tea Estate - Experience the beauty of Kausani when you witness the Kausani Tea Estates here. The estate is spread around an area of 208 hectares and the produce is one of the finest in the country. The tea is high in flavor and strong in aroma and is exported to Australia, America, Germany and Korea. The estates are also situated in a picturesque located that offers a 3.5 kilometer scenic walk.

Dinner & overnight at Kausani

Day 6

Kausani to Corbett

After breakfast, transfer to Corbett ... 140 kms., 4 hrs. drive

World-renowned Corbett Tiger Reserve, established in 1936 as India's first national park, covers 1318 sq km of wild forests. It's named for legendary British hunter Jim Corbett (1875–1955), who brought this region international fame with his book The Man-Eaters of Kumaon.

As well as being famous for having the most tigers of all India's national parks, Corbett is known for its stunning scenery, including jungle, grasslands, riverine and hilly terrain, home to an abundance of wild elephant, deer, primate, reptile and birdlife, as well as leopard, Himalayan black bear and sloth bear.

The park is divided into six zones that all offer different experiences; most famous is Dhikala, which offers the best chance to spot animals. Take note: the bulk of the park is closed during rainy season (generally mid-November to mid-June), with only a few zones open year-round.

On arrival check in at hotel

Rest of the day at leisure to relax at the resort

In the afternoon, take a Jungle Safari

Jeep Safari

When you want to explore the wilds of Jim Corbett National Park, the option is to board a Gypsy. This is the most secure way if you don't want to get scared when you hear the growl of a Tiger! Jeep is the best way to get the inside look of the forest and its topography & also to cover maximum area inside the forest in stipulated time frame.

The duration of Game view is about three to four hours and is conducted early morning or in the afternoon till sunset. The standard procedure of viewing wildlife or tiger tracking is in open jeeps. Each Gypsy can seat up to Six persons comfortably. Besides the visitors, the jeep has an expert driver and a nature guide. For the purpose of directing visitors and showing them around Corbett, trained Nature Guides are available. These registered guides help tourists spot wildlife and make sure that they do not lose their way inside the forest.

Specific trails for vehicles are maintained to enable visitors to watch wildlife at Corbett. Driving off track it is not allowed for reasons of safety. Taking a Nature Guide with each vehicle is compulsory.

Dinner & overnight at Corbett

Day 7

Corbett - Jungle Safaris

Early morning Jungle Safari

Later return to hotel in time for breakfast.

Day at leisure for other sightseeing & activities around Corbett as well as evening Jungle Safari

Trekking - Trekking in Corbett is best option to explore the wildlife. But inside the Corbett Park trekking is not allowed. But we have many more trek areas to watch diverse wildlife and breathtaking landscapes. During the trek we cover many hill areas, water falls, lakes and dense forests. Do take help and necessary info. from the hotel's activity manager before venturing.

River Crossing - This activity is possible over the Kosi River at Corbett National Park. With the help of proper equipments and a cord one can pass over the river. It is a team building activity always possible with group members.

Rappelling - Rappelling activity is actually roping down from a cliff with the help of rope, climbing down a cliff. In Corbett we have experts to arrange rappelling expeditions for both beginners as well as expert adventurers. This activity always has a lot of fun.

The Nature Walk - The forests are full of riches. Living close to the land, and depending on it for sustenance, the Kumaoni villagers know how to tap the precious resources of this vanishing world. The nature Walk, which is on the agenda of all guests, is a guided tour by naturalists, who unveil for you the wonders of the earth. You walk along the banks of the river Kosi, and along simple paths, and the healing herbs are there, all over!

In the evening you can enjoy the Kumauni Folk Dance & Slide Show on Corbett National Park. These activities are organized by some of the hotels

Dinner & overnight at Corbett

Day 8

Departure Corbett

After breakfast, depart for New Delhi ... 275 kms., 6.5 hrs. drive

Drop to airport for onward flight
Notes
Round the Year Destination ... Extension recommended to Haridwar, Rishikesh, Kanatal, Mussoorie, etc.
Hotels
Tour inclusion [Best of Uttrakhand]
3 nights Nainital

2 nights Kausani

2 nights Corbett

Chauffer driven AC vehicle for transfers & sightseeing as per itinerary inclusive of fuel, toll, parking, taxes, allowances, etc.

Daily breakfast & dinner

Safari at Jim Corbett
Notes on itinerary
All our itineraries are "Just for Ideas" ... We will get to know you and customise an itinerary just for you that matches your requirements ... dates of travel, category of hotels, preferred airline, flexibility in choosing sightseeing, mode of travel between cities, etc.
Many of our clients have us design more relaxing, slower paced holidays with more in-depth experiences whereas some simply want to visit various destinations and cover only the highlights.
Together, we will determine the ideal route, pace of travel, accommodations, levels of pampering, style of touring, sightseeing to be included, dining preferences, adventure levels, options to meet locals, dates of travel & much more ! and based on this arrive at a price.
Do feel free to get in touch with us by a quick call on +91 79 29602961 or a short mail on mail@destinations4india.com ... Looking forward