Best of Thailand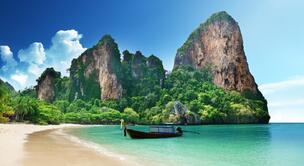 Friendly and food-obsessed, hedonistic and historic, cultured and curious, Thailand tempts visitors with a smile as golden as the country's glittering temples and tropical beaches.

A Bountiful Table
Adored around the world, Thai cuisine expresses fundamental aspects of Thai culture: it is generous, warm, refreshing and relaxed. Thai dishes rely on fresh, local ingredients – pungent lemongrass, searing chillies and plump seafood. A varied national menu is built around the four fundamental flavours: spicy, sweet, salty and sour. Roving appetites go on eating tours of Bangkok noodle shacks, seafood pavilions in Phuket, and Burmese market stalls in Mae Sot. Cooking classes reveal the simplicity behind the seemingly complicated dishes, and mastering the market is an important survival skill.

Fields & Forests
Outside the cluttered cities and towns lies Thailand's rural heartland, a mix of rice paddies, tropical forests and villages where life is dominated by the rhythms of the agricultural clock. In the north, the forests and fields bump up against toothy blue mountains decorated with silvery waterfalls and honeycombed by deep caves. Down south, scraggy limestone cliffs poke out of the cultivated landscape like prehistoric skyscrapers, or emerge dramatically out of the turquoise sea. The usually arid northeast turns an emerald hue during the rainy season when tender green rice shoots carpet the landscape.

Sacred Spaces
The celestial world is a close confidant in this Buddhist nation, and religious devotion is colourful and ubiquitous. Gleaming temples and golden Buddhas frame both the rural and the urban landscape. Ancient banyan trees are ceremoniously wrapped in sacred cloth to honour the resident spirits, fortune-bringing shrines decorate humble homes as well as monumental malls, while garland-festooned dashboards ward off traffic accidents. Visitors can join the conversation through meditation retreats in Chiang Mai, religious festivals in northeastern Thailand, underground cave shrines in Kanchanaburi and Phetchaburi, and hilltop temples in northern Thailand.

Sand Between Your Toes
With a luxuriously long coastline (actually, two coastlines) and over 1400 jungle-topped islands anchored in azure waters, Thailand is a tropical getaway fit for everyone, whether hedonist or hermit, prince or pauper. The country's coast is one giant playground, with plenty going on wherever the sand meets the sea. You can snorkel the gentle waters off Ko Lipe, dive with whale sharks around Ko Tao, scale the sea cliffs of Krabi, kiteboard in Hua Hin, party on Ko Phi-Phi and recuperate at a health resort on Ko Samui.
Itinerary
Day 1

Arrival Bangkok / Siam Niramit Show

Upon arrival at Bangkok airport. meet & greet by our representative, Transfer to hotel for check in

Same same, but different. This Thailish T-shirt philosophy sums up Bangkok, a city where the familiar and the exotic collide like the flavours on a plate of pàt tai.

Full-on Food - Until you've eaten on a Bangkok street, noodles mingling with your sweat amid a cloud of exhaust fumes, you haven't actually eaten Thai food. It can be an intense mix: the base flavours – spicy, sour, sweet and salty – aren't exactly meat and potatoes. But for adventurous foodies who don't need white tablecloths, there's probably no better dining destination in the world.

Fun Folks - The language barrier here can seem huge, but it's never prevented anybody from getting along with the Thai people. The capital's cultural underpinnings are evident in virtually all facets of everyday life, and most enjoyably through its residents' sense of fun (known in Thai as sà·nùk).

Urban Exploration - With so much of its daily life conducted on the street, there are few cities in the world that reward exploration as handsomely as Bangkok does. Cap off an extended boat trip with a visit to a hidden market. A stroll off Banglamphu's beaten track can lead to a conversation with a monk. Get lost in the tiny lanes of Chinatown and stumble upon a Chinese opera performance. Or after dark, let the BTS (Skytrain) escort you to Sukhumvit, where the local nightlife scene reveals a cosmopolitan and dynamic city.

A City of Contrasts - It's the contradictions that provide the City of Angels with its complex, multifaceted personality. Here, climate-controlled megamalls sit side by side with 200-year-old village homes; gold-spired temples share space with neon-lit strips of sleaze; slow-moving traffic is bypassed by long-tail boats plying the canals and riverways; Buddhist monks dressed in robes shop for the latest smartphones; and streets lined with food carts are overlooked by restaurants perched on top of skyscrapers. As Bangkok races towards the future, these contrasts are only poised to increase and intensify, even while supplying the city with its unique and ever-evolving notion of Thai cosmopolitanism.

Later in the evening transfer for Siam Niramit Show

Housing the Ratchada Theatre, a miniature Thai village, Sawasdee Restaurant and a souvenir shop all under one roof, the Siam Niramit compound is decked out in contemporary Thai style, with small 'salas' (gazebos) and sculptures of Kinnaree, a mythical winged creature prevalent in many Thai fables. Here you can also feed the elephants, listen to a 'ranad' (Thai xylophone) band and take pictures with characters from the show.

Dinner & Overnight at Bangkok

Day 2

Bangkok sightseeing

After early morning or packed breakfast, transfer to floating market

This floating market - the country's most famous – is now essentially a floating souvenir stand filled with tourists. This in itself can be a fascinating insight into Thai culture, as the vast majority of tourists here are Thais and watching the approach to this cultural 'theme park' is instructive. But beyond the market, the residential canals are quite peaceful and can be explored by a boat

Later Half day Bangkok City Tour covering the Grand Palace & Temples

Grand Palace : Part of the greater complex that also encompasses the hallowed Wat Phra Kaew temple, the Grand Palace (Phra Borom Maharatchawang) is a former royal residence that is today only used on ceremonial occasions. Visitors are allowed to survey the Grand Palace grounds and four of the remaining palace buildings, which are interesting for their royal bombast.

Wat Traimit [Golden Buddha] - The attraction at Wat Traimit is undoubtedly the impressive 3m-tall, 5.5-tonne, solid-gold Buddha image, which gleams like, well, gold. Sculpted in the graceful Sukhothai style, the image was 'discovered' some 60 years ago beneath a stucco/plaster exterior, when it fell from a crane while being moved to a new building within the temple compound.

Wat Benchamabophit [Marble Buddha] - This temple is made of white marble imported from Italy, the distinctive bòht (ordination hall) of Wat Ben, as it's colloquially known, was built in the late 19th century under Rama V. The base of the central Buddha image, a copy of the revered Phra Phuttha Chinnarat in Phitsanulok, northern Thailand, contains his ashes.

Wat Pho [Temple of reclining Buddha] - Wat Pho is our favourite among Bangkok's biggest sights. In fact, the compound incorporates a host of superlatives: the city's largest reclining Buddha, the largest collection of Buddha images in Thailand and the country's earliest centre for public education.

Evening at leisure to explore the famous street markets of Bangkok

Dinner & overnight at Bangkok

Day 3

Bangkok to Pattaya / Alcazar Show

After breakfast, transfer to Pattaya [2 hours drive]

Even if you know exactly what to expect of Pattaya, it still comes as an eye-popping sensory explosion. Multicultural, hyper-touristy Pattaya boasts some excellent and good value places to stay and eat, and the area is also a family-friendly resort coast.

Much of the rest is dedicated to mass-market sun-seeking tourism, with a huge retired expat population, and enormous tour groups hurried through town in an almost constant stream. For a relaxing stay in Pattaya, base yourself outside the central area.

The city is built around Ao Pattaya, a wide, crescent-shaped bay that was one of Thailand's first beach resorts in the 1960s when American GIs came for some R & R. Pattaya Neua (North Pattaya) is more upmarket while Pattaya Tai (South Pattaya) remains the nightlife hub.

On arrival check in at hotel

Later in the evening transfer for Alcazar show

See the best of Pattaya through its colourful performing arts scene. The cabaret shows here have garnered world-wide fame, thanks to their stunning lady-boy entertainers who possess tremendous stage talents. It's been said that if you want to see beautiful lady-boys perform head over to Alcazar. Pattaya has made good of its long-time love affair with lady-boys. Extravagant costumes, convincingly stunning lady-boys, spectacular stage sets are all part of a grander show that delights you with non-stop fantastic entertainment, from the Russian stage to K-Pop to Persian harlem and even outer space. Whether you are in for the beautiful 'ladies' or the show, you'll get your money worth at Alcazar.

Dinner & overnight at Pattaya

Day 4

Pattaya sightseeing

After breakfast, transfer for Coral Island by Speed boat with Lunch

Nothing beats spending the day relaxing and working on your tan on an idyllic island. Located 7.5 kms. off Pattaya, Coral Island (Koh Lan) offers peaceful and immaculate sandy beaches — a perfect retreat from the hustle and bustle of Pattaya.

Coral Island and surroundings cover an area of about 4 square kilometers, where you spend the day swimming, snorkeling and sunbathing. Enjoy the abundant coral and underwater world, either from the glass-bottom boat or by diving in. Various water sports and adventure activities are available from numerous suppliers on direct payment basis

Lunch at Coral Island. Later transfer back to Pattaya by Speed Boat

Later transfer for Noong Nooch Village tour

Nong Nooch Village, a beautifully landscaped park and botanical garden located near Pattaya. Spread over 500 acres, this tropical garden attracts many nature lovers and flora and fauna enthusiasts. The orchid nurseries are always worth a watch, housing nearly 670 native species and hybrids all in one place. For those who are interested in wildlife, you can see the majestic tigers and the mighty elephants.

Evening at leisure to visit the bars around Pattaya

Dinner & overnight at Pattaya

Day 5

Pattaya to Krabi

After breakfast, transfer to Bangkok airport for flight to Krabi

Upon arrival at Krabi, meet & greet by our representative & transfer to hotel for check in

Bustling Krabi Town is majestically situated among impossibly angular limestone karst formations jutting from the mangroves, but mid-city you're more likely to be awestruck by the sheer volume of guesthouses and travel agencies packed into this compact town. It's a key transport hub, around which a busy traveller scene continues to evolve. There's no shortage of restaurants, or gift shops selling the usual trinkets.

But hang around a while and you'll see that there's also a very real provincial scene going on beneath the tourist industry.

Rest of day at leisure to explore the beach & city

Dinner & overnight at Krabi

Day 6

Krabi sightseeing

After breakfast, transfer for 4 Island Tour by Speed boat with Lunch

Make the most of your time in the islands of Ao Nang by traveling via speedboat. This full-day tour takes you to Poda Island, Chicken Island, Railay Beach, and Tup Island, something tours via longtail can't accomplish in a single day.

Relax on unspoiled beaches of Railay and Poda Island, swim and snorkel in crystal clear waters at Chicken Island and explore the amazing coral reefs and marine life of the Andaman sea on this full-day tour.

On this classic Island tour you will travel by speed boat to the 4 Islands closest to Krabi coast. The tour stops at Phra Nang Cave Beach with white powdery sand and crystal clear waters. Enjoy exploring Princess Cave where Princess Goddess is believed to reside and swim in the crystal clear water. A place sacred with the Sea Gypsies, complete with colourful shrines. A beautiful beach on the Railay peninsula with spectacular limestone cliffs and staggering stalagmites and stalactites.

Then visit popular Poda Island; A combination of breathtaking scenery, white beaches and excellent snorkeling. Feeling hungry? Enjoy a peaceful picnic lunch on the beach and admire the blissful surroundings.

Continue onto Chicken Island which is divided into two parts. The island consists of steep cliffs with an amazing rock formation at one end that looks like the head of a chicken (hence the name!). At the other end is a beautiful beach where you can enjoy snorkelling and swimming with colourful reef fish. Feel like a stroll along the beach?

We will visit Tup and Mor Islands also known as Taleh Waek which means divided sea. At low tide a sandbar emerges making it ideal for a walk along the sandy banks whilst admiring the abundance of tropical fish.The shallow waters at Tup make for a safe haven if you are island hopping with young kids. The water is deep enough on either side of the sandbar to relax and cool down. At high tide it's an excellent spot for snorkeling and swimming. Visiting these islands via speed boat will allow you more time to enjoy snorkeling, swimming, relaxing and everything else that these stunning islands and all they have to offer.

Return back to Krabi by evening

Evening at leisure to visit the local market or a walk on the beach

Dinner & overnight at Krabi

Day 7

Krabi to Phuket

After breakfast, depart to Phuket by road [3 hours drive] or by ferry [2.5 hours sailing]

Jade-hued waves concealing rainbows of fish wash white-gold beaches wrapped in Phuketian heritage: Phuket, Thailand's dazzling largest island, is so diverse you may forget to leave.

Beach Bliss - The pearly white, palm- and casuarina-fringed beaches that ring Phuket's southern and western coasts are the island's key bounty. Each beach is different, from the northwest's upmarket Surin and Ao Bang Thao (with their luxe resorts and, in Bang Thao, glossy beach clubs) to mellow, jungled Rawai on far south Phuket, or the infamous west-coast sin city of Patong, home of hangovers and go-go bars. So there's space for everyone, whether you're a flashpacking couple, a luxury jetsetter, a wandering budgeteer or a travelling family on the hunt for seaside fun.

Cultural Heritage - Those tropical-island beaches are glorious, of course, but venture just a little beyond and you'll uncover astonishing Phuketian cultural riches that many visitors zip right past. East-coast capital Phuket Town delights with its eye-opening museums, Peranakan cooking, Chinese shrines and historic mansions and shophouses done in characteristic Sino-Portuguese style.

Underwater Wonders - Some of Thailand's most magnificent landscapes lie hidden away beneath the Andaman's glittering surface, and Phuket sits blissfully within day-tripping distance of both Ko Phi-Phi's popular dive sites and the famed, national-park-protected, impossibly beautiful Similan Islands. A wealth of local dive schools will have you strapping on a mask and communing with denizens of the deep in no time. For those who don't fancy diving straight in, snorkelling trips offer a tantalising taster, while kayaking expeditions into Ao Phang-Nga's hushed hôrng (semi-submerged island lagoons) reveal awe-inspiring seascapes of towering limestone karsts.

On arrival check in at Hotel

Rest of the day at leisure to visit the beach, enjoy hotel activities or explore the colourful streets of Phuket

Dinner & overnight at Phuket

Day 8

Phuket - Phi Phi Island Tour

After breakfast, transfer for full day Phi Phi Island + Khai Island Tour by Speed boat with lunch

This speedboat day trip to Phi Phi and Khai island includes hotel transfers, a licensed English speaking guide, Snorkeling gear, soft drinks, water & fresh fruits and full insurance. It includes all admission fees.

Phi Phi Island is Thailand's island-superstar. It's been in the movies. It's the topic of conversation for travelers all over Thailand. For some, it's the only reason to touchdown in Phuket. Even with all the hype, it doesn't disappoint. Phi Phi's beauty is a large chunk of the allure. The islands, when approached by boat, rise from the sea like a fortress. Sheer cliffs tower overhead, then give way to beach-fronted jungle. It's love at first sight.

Khai nok , Khai nui and Khai Nai Island : There are 3 small Islands are Khai nok, Khai nai and Khai nui its located near Phuket town only 20 minute by speed boat to the islands it's surrounded by crystal clear waters with thousands of tropical fish

Back to Phuket by evening

Evening at leisure

Dinner & overnight at Phuket

Day 9

Phuket - James Bond Island Tour

After breakfast, transfer for a full day James Bond Island Tour by Ferry Big boat with lunch

You'll be closer to the water in the traditional Thai longtail boat as you tour James Bond Island. A sunroof protects you from the tropical sunlight. You'll enjoy a set lunch and that exhilarating canoeing experience.

Morning pick-up from your hotel by minibus and transportation to the pier in Phang Nga province. Visit Monkey Cave (Suwankuha Temple). Sightseeing in Phang Nga Bay National Park by longtail boat.

Set lunch in the Muslim fishing village on Koh Panyee Island and experience the local life style. Explore the nature and sea caves by canoe at Talu Island with experienced paddlers as guides.

Visit James Bond Island - This is the most famous Island with its needle formed limestone rock which featured in the James Bond movie "The Man with the Golden Gun". A distinctive feature of this famous bay is the number of sheer limestone cliffs that vertically jut out of the emerald-green water.

Back to Phuket by evening

Dinner & overnight at Phuket

Day 10

Phuket to Koh Samui

After breakfast, transfer to airport for flight to Koh Samui

Upon arrival at Koh Samui, meet & greet by our representative & transfer to hotel for check in

Whether you're sun-seeking, dozing in a hammock, feasting on world-class cuisine, beach partying or discovering wellness in an exclusive spa, Ko Samui has it covered.

The kiss of sun on tanned skin, the deep azure of the sky and the gentle lapping of warm waves on satin sands are ideal ingredients for the perfect retreat. Ko Samui's beaches are a diverse bunch to boot: roll up your beach towel and see what you can find.

Deftly paired with the island's seductive sands, dining is Samui's other top indulgence. From the simplest of Thai dishes to scorching regional curries and plates hopping with flavour on seaside tables, you're spoiled for choice. Don't overlook more anonymous places, the best meals can await in faceless roadside shacks where locals saunter in.

Add some full-on pampering to the leisurely mix. People come here to see other people looking good and to look good too, with a pinch of mindfulness thrown in for massaging the soul. Cleansing fasts, yoga, tai-chi, herbal steam treatments and chakra-balancing restore equilibrium to out-of-kilter systems, with flexible arrangements for those who pitch up with the best of intentions, but remember they're on holiday. And for those who just want to ease away the aches and pains of lying on the beach, Ko Samui's spas can ease them to the next level of serenity.

Rest of day at leisure to explore the beach & city

Dinner & overnight at Koh Samui

Day 11

Koh Samui sightseeing

After breakfast, day at leisure for Koh Samui sightseeing

Angthong National Marine Park by Speed Boat

Spend a day in the Emerald Green Lagoon of the Gulf of Thailand on a speed boat for about 45-minute ride through the 42 islands. Spend the day island-hopping: • First, arrive to Koh Wao or "Koh Tay Plow" for snorkeling through the beautiful nature and clear blue waters. • On Koh Mae Ko, you can hike up to the top with a spectacular view over the emerald saltwater lake called "Talay Nai" which is connected with the sea through underwater caves • At mid-day, enjoy a delicious Thai buffet lunch on the beach, and spend the afternoon sunbathing or simply relaxing on the white sand beaches. • In the afternoon, visiting the park's principle islands, and exploring their natural caves and stunning rocks formation by kayaking around the wonderful nature of Angthong National Marine Park or climbing up to the mountain's top to take a look at the fantastic panorama view.

or

Eco-Jungle Safari Tour around Koh Samui

Koh Samui is renowned as one of Thailand's most idyllic islands, but you don't have to spend all day at the beach. Escape the crowds and venture into the jungle on this thrilling 6-hour Jeep safari. Visit the Magic Buddha Garden, swim beneath the Namuang waterfall, tour a rubber plantation, and enjoy lunch with a mountain view. Hotel pickup and drop-off is included.

Evening at leisure

Dinner & over night at Koh Samui

Day 12

Departure from Koh Samui

After breakfast, transfer to airport for onward flight
Notes
Round the Year Destination ... Extention recommended to Singapore, Cambodia & Other countries across Far East Asia
Hotels
Tour Inclusions [Thailand]
2 nights accommodation at Bangkok
2 nights accommodation at Pattaya
2 nights accommodation at Krabi
3 nights accommodation at Phuket
2 nights accommodation at Koh Samui
Daily Breakfast & Dinner
Transfer from Bangkok Airport - Bangkok Hotel - Pattaya Hotel - Bangkok airport
Transfer from Krabi Airport - Krabi Hotel - Phuket Hotel - Phuket Airport
Siam Niramit Show
Damnernsaduk floating market tour
Bangkok City and Temple Tour
Alcazar show
Coral Island tour with lunch by speedboat
Noong Nooch Village tour
4 Island Tour by Speed boat with Lunch
Phi Phi Island + Khai Island by Speed boat with lunch
James Bond Island by Ferry Big boat with lunch
Angthong National Marine Park by Speed Boat or Eco-Jungle Safari Tour at Koh Samui
Notes on itinerary
All our itineraries are "Just for Ideas" ... We will get to know you and customise an itinerary just for you that matches your requirements ... dates of travel, category of hotels, preferred airline, flexibility in choosing sightseeing, mode of travel between cities, etc.
Many of our clients have us design more relaxing, slower paced holidays with more in-depth experiences whereas some simply want to visit various destinations and cover only the highlights.
Together, we will determine the ideal route, pace of travel, accommodations, levels of pampering, style of touring, sightseeing to be included, dining preferences, adventure levels, options to meet locals, dates of travel & much more ! and based on this arrive at a price.
Do feel free to get in touch with us by a quick call on +91 79 29602961 or a short mail on mail@destinations4india.com ... Looking forward